"We strongly believe in co-opetition", said Christian Knoblich, when he presented the winners of this year's competition for quality, sales and customer service of the EURODIS network.   

The Managing Director of EURODIS GmbH, the company operating the network for parcels and pallets covering 36 European countries, adds: "Co-opetition, competition in a cooperative network, is an ideal tool to enhance service levels, to increase sales and to achieve growing effectiveness in the system. Continuously rising shipment numbers prove our success." The target of a double-digit growth is confirmed by the shipment development in the first half of 2019.
The award for the best quality performance amongst the EURODIS members went to German trans-o-flex for the third time in a row. For this award the accuracy and speed in sticking exactly to the defined processes of the network from pick up to delivery is measured daily. Part of this is compliance with the different shipment scans, electronic data transfer of all scans, tracking information or proof of delivery (POD).
The Slovakian In Time won the price for customer service. "Because customer service is a key means of differentiation we developed a tool to measure how fast and detailed the members answer requests and award a prize for the best performer", says Christian Knoblich.
For the first time the sales award was not won with pure numbers. "This time every member applied for the sales award with a special sales success story", says Knoblich. This year´s sales award was won by SDA for a project in 2018, which successfully developed and implemented tools to increase sales. "For our network members it is much more interesting and inspiring to see how other members make best use of strengths and uniqueness of our services, instead of just looking upon figures. The new design of this competition is part of our best practice concept in which all members of EURODIS can learn from each other."
The general base for all three awards is the performance of each member of EURODIS in 2018 and the awards were handed over at the annual meeting of the network which recently took place near Munich organized together with the German EURODIS member trans-o-flex.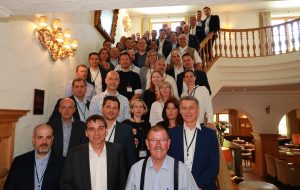 The team is the winner: proud participants of this year's annual meeting of EURODIS where members were awarded in the categories quality, sales and partner support.