EURODIS integrated Ciblex as member for France to strengthen its international transport network for parcels and pallets in 36 European countries.    

"We are delighted to welcome Ciblex for a second country in our network of strong national members", says Jens Reibold, Managing Director of EURODIS GmbH which is steering the European network. In Belgium the national Ciblex organisation has already become a EURODIS member in 2015. In France Ciblex holds the third position in the national express delivery market and is owned by European Healthcare Distribution Holding (EHDH). "Ciblex fits very well into our network as it has a strong focus on quality and B2B services."
"On an operational level we have a step by step integration of Ciblex", notes Jens Reibold. "This means that we do not hand over all our volume to Ciblex at once, but in phases based on the dispatch country." In parallel Ciblex handles its export shipments through EURODIS. "Before we had a pure delivery partner in France. Therefore, the integration of Ciblex is a strategic change, and we are happy that we won a member who is committed to further develop our network."
"Throughout Ciblex and all the other companies within EHDH we have a clear strategy of how to achieve further growth", says Stéphane Baudry, CEO of EHDH. "And internationalization is a cornerstone in this strategy." According to Stéphane Baudry the market for international shipments sees stronger growth than most of the national transport markets in Europe, not only in recent years, but also for the years to come. "Therefore, it is a huge opportunity for us to be the French member of EURODIS. It leads us further in becoming a true international player and benefit from the ongoing trend towards international business."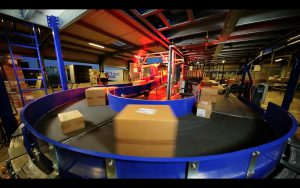 Since Ciblex has become EURODIS member for France, the Ciblex distribution centres are sorting EURODIS shipments for French import and export.