It was the 31st of August 1993, when the foundation charter of the European Distribution network called EURODIS was signed.  

Three days later the partners of EURODIS started transporting the first parcels and pallets. "The history of EURODIS can be read as an exact copy of the development of the whole European transport industry", says Christian Knoblich. He is managing director of EURODIS GmbH, Weinheim, the company organising and steering the network. "The waves of consolidation in the industry have changed our network, but we sticked to the core values of our system." Unlike pure haulage or parcel networks EURODIS deliberately decided to transport parcels and pallets in the same network. And in addition to the core product of international Business-to-Business (B2B) shipments EURODIS started with Business-to-Consumer (B2C) shipments. "All this means versatility for shipper and consignee and makes shipping and receiving goods more easy and flexible. Through this, both shipper and consignee achieve important advantages, as we live in an economy which is more than ever driving to efficiency and effectiveness."
To Knoblich these achievements are the main reasons why EURODIS has developed into a European logistics network of remarkable size. "The members of EURODIS are working with 52,000 staff at 650 sites, with the help of 25,000 vehicles they are moving around 560 million shipments a year and reach a turnover of about 3.8 billion Euros. And because we saw strong increase in volumes in the first six months in 2018 we are confident that we can reach a new record volume this year."
The companies trans-o-flex (Germany) and Bonafide (Switzerland) are EURODIS members from the very beginning. Moreover, in the meantime further market leading companies joined the network. Examples are SDA (Italy), PostNL (Netherlands), Austrian Post (Austria) or Redur (Spain). The network continuously covers more and more countries. Thus in recent years partners in Romania and Bulgaria have been added. Knoblich: "EURODIS has proven itself in 25 years, is a matured and established market player and steadily attracts new partners and customers. This is the basis for further successful development. But instead of settling back we will roll up our sleeves. Then we will still achieve such a positive result at our golden jubilee."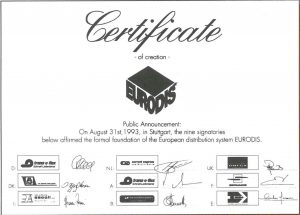 Foundation charter of the European Distribution network EURODIS with signatures of all founding members signed on 31st of August 1993.